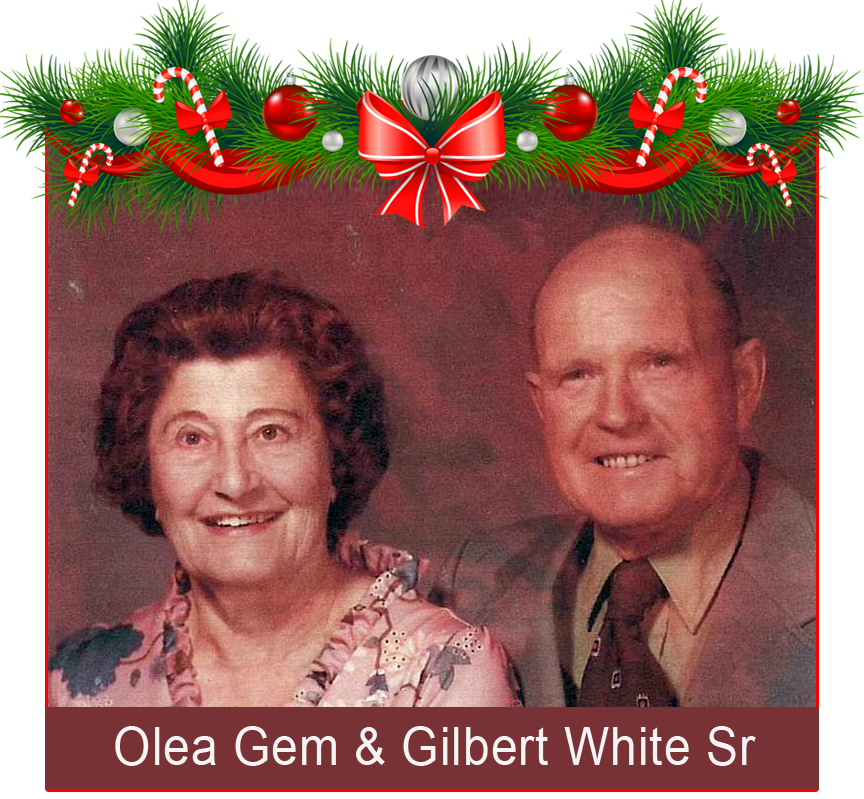 Merry Christmas 2017!
Here's a little gift for the family and friends of Olea Gem and Gilbert White Sr. Gil loved "technology" (such as it was way back then). In the late 1950s, 8mm home movies became a bit of a rage. So Gil invested in a camera and got much personal enjoyment from filming home movies between 1958 and 1981. The main subjects of his little films were his lovely wife Olea Gem Keith, his daughter Betty Jean (husband Don Hill), his son Gilbert Jr (wife Maxine Farr), his grandchildren, and sometimes a great-grandchild or two. For more than fifty years, the films sat in a box in a closet at Gilbert and Maxine's home. They were deteriorating badly, becoming faded, blurry, and brittle, soon to be lost forever.


Earlier this year, grandson Wayd suggested that the reels of film be digitized and restored to save them permanently as a family keepsake. Wayd and Vicki retrieved the box of films, bought a vintage projector, and used their knowhow to transfer the films to digital video. They then sent the raw footage to Dru and Maeva where they did some visual restoration, color enhancement, and added titles and music (sorry, no audio back then). Finally, they edited them into short 2-minute clips for convenient viewing. The restored videos have now been placed on this website (GilPix.com) for everyone to view and share.

During the process of restoration, we had to approximate most dates (based on the apparent ages of children), and also had to guess at the identity of some individuals. If you discover errors, please let us know, and we'll do what we can to correct them. We hope you enjoy this precious memento of our heritage. And Happy Holidays to everyone!

1. Gem's Lovely Flower Garden
Frank, Greg, Don, Olea Gem, Betty Jean, Holly
2. Logging Truck Fishing Trip
Chipmunks, Grandpa's Shadow, Big Fish, Gilbert Sr
3. Dinosaur Rider Road Trip
Gilbert Sr, Mr Buck Head, Gilbert "Robin Hood" Jr
4. Fish Finds Autumn Leaves
A Fish, His Boat & Car, Some Colorful Leaves
5. Whiskey Bottle Spillway
Betty Jean, Frank, Gilbert Sr, Rod, Olea, Greg, Rhett, Betsy
6. Here Fishy Fishy
Olea, Rodney, Gilbert Sr & the Strawberry Boat
7. Sleepy Deer & Penny the Pup
Calli, Olea, Gilbert Sr, Rodney
8. Redneck Trailer Boys
Greg, Frank, Rod, Gilbert Sr, Gilbert Jr, Wayd, Dru, Rhett, Wyn, Calli & Codi (a glimpse)
9. Time Flies Like An Arrow
Gilbert Sr, Wyn, Gilbert Jr, Dru, Rhett
10. Lovely Summer Flowers
Greg, Frank, Betty Jean, Olea
11. The Hyper Kids Strike Again
Codi, Wyn, Calli, Dru, Greg, Rhett, Frank, Wayd, Olea, Rod
12. Dinah Lives Here
Olea, Don, Betty Jean, Rod, Greg, Frank, Baby Holly
13. Make That Spare
Olea, Gilbert Sr, Gilbert Jr
14. Jingle Bells Full House
Gilbert Jr, Frank, Greg, Rhett, Dru, Calli, Codi, Holly, Betty Jean, Shae, Olea, Wyn, Janice, Rod, Lynn & Walt, Don
15. California Adventure
Gilbert Sr, Olea, with Ivy & Vaughn
16. Christmas 1967 * Part I *
Calli, Olea, Wayd, Codi, Rhett, Maxine, Dru, Shae, Gilbert Jr, Wyn
17. Christmas 1967 * Part II *
Betty Jean, Holly, Frank, Greg, Olea, Don
18. Christmas 1967 * Part III *
Holly, Codi, Rhett, Calli, Frank, Don, Wayd, Rod, Dru, Betty Jean, Maxine, Gilbert Jr, Olea, Wyn
19. Christmas 1969 * Part I *
Codi, Olea, Wayd, Shae, Dru, Wyn, Rhett, Gilbert Jr, Calli, Maxine
20. Christmas 1969 * Part II *
Shae, Holly, Frank, Greg, Olea, Calli, Betty Jean, Maxine, Wyn, Codi, Rhett
21. Christmas 1972 * Part I *
Olea, Janalee, Holly, Wayd, Jenifer, Betty Jean, Frank, Janice, Rod, Rhett, Codi
22. Christmas 1972 * Part II *
Jenifer, Calli, Frank, Shae, Don, Maxine, Gilbert Jr, Janice, Holly, Codi, Wyn, Garth, Olea
23. Christmas 1973
Holly, Betty Jean, Olea, Frank, Don, Rod, Janice, Wyn, Doug Gibby, Gilbert Jr, Wayd, Dru, Codi, Janalee, Calli, Maxine
24. Pink Pig Parade
Jenifer, Janalee & Other Beauty Queens
25. Christmas 1974 * Part I *
Georgette, Lula, Wyn, Olea, Calli, Maxine, Gilbert Sr, Dru, Codi, Halvan, Darrell, Clela
26. Christmas 1974 * Part II *
Gilbert Sr, Frank, Don, Betty Jean, Holly, Olea, Nancy, Janalee, Jenifer, Janice
27. Christmas 1976
Nancy, Cami, Quinette, Shae, Wyn, Calli, Georgette, Maxine, Olea, Dru, Wayd, Codi, Betty Jean, Holly
28. Christmas 1978 * Part I *
Betty Jean, Olea, Ryan, Janice, Janalee, Carrie, Rhett, Wyn, John, Calli, Georgette, Gilbert Sr, Jairus, Quinette, Shae, Gilbert Jr, Maxine, Bremond, Shanna, Wayd
29. Christmas 1978 * Part II *
Greg, Janice, Rod, Gilbert Sr, Nancy, Kelly, Janalee, Cami, Jenifer, Holly, Betty Jean, Olea, Rustin
30. Family Stars Parade * Part I *
Maxine & Other Beauty Queens
31. Family Stars Parade *Part II *
Kathy, Maxine, Wayd & Other Famous Stars
32. Christmas 1980
Ryan, Quinette, Codi, Rhett, Jairus, Aimee, Maxine, Shae, Gilbert Sr, Carrie, Georgette, Dru, Calli, Gilbert Jr, John
33. Christmas 1981
Betina, Calli, Jairus, Ryan, Quinette, Bremond, Rhett, Maxine, Georgette, LeBeau, Wyn, Cherilee, Carrie, Codi, Wanda, Shae, John, Ian, Aimee
34. Christmas 1970
Bessie, Olea, Betty Jean, Frank, Greg, Holly, Jesse, Gilbert Jr, Rhett, Calli, Rod, Wayd, Janice, Shae, Don, Wyn, Dru, Alesia, Maxine, Lynn, Ivan
35. Wily Easter Bunny
Calli, Codi, Rhett, Wyn, Rod, Olea, Dru, Gilbert Jr, Shae, Greg, Frank, Betty Jean, Wayd, Don
36. Waiting for the Parade
Holly, Wyn, Calli, Wayd, Dru, Kevin, Bowdi, Greg, Rhett, Kim, Wyatt, Frank, Codi, Betty Jean, Clela, Darrell, Olea, Maxine
37. Bambi Plays Possum
Rod, Holly, Betty Jean, Frank, Don, Bambi, Nicky, The Slippery Fish
38. The Speeding Photographer
Olea, Wayd, Calli, Wyn, Codi, Rhett, Gilbert Jr
39. Something Fishy Going On
Gilbert Sr, Rod, Olea
40. The Forest Nymph
Olea Gem White
41. The Amazing Garden Queen
Olea, Vaughn, Ivy, Bessie
42. Strawberry Adventures
Holly, Rod, Ivy, Vaughn, Olea, Frank
43. Sarah Webb White
Sarah, David, Rod, Betty Jean, Holly, Rhett, Maxine, Don & Other Relatives
44. William Jairus Keith Sr
Grandpa Keith, Olea, Lucille, Amelia Edwards
45. Give A Hoot Parade
Janice, Janalee, Jenifer, Rustin, Nancy, Kelly, Cami, Greg
46. Christmas 1979 * Part I *
Olea, Calli, Georgette, Gilbert Jr, Maxine, Bremond, Wyn, Shae, Aimee, Dru, Don, Wayd, Shanna, Wanda, Nancy, Gifford, Holly, Cami
47. Christmas 1979 * Part II *
Shae, Carrie, Olea, Betty Jean, Wayd, Shanna, Quinette, Jairus, Gilbert Sr, Greg, Cami, Gilbert Jr, Maxine, Georgette, Bremond, Ryan, Rhett, Kelly, Gilbert Sr
48. Happy Moments Together
Betty Jean, Codi, Janice, Rod, Shae, Frank, Calli, Don, Olea, Holly, Wayd, Dru, Greg
49. Hangin' With The Twins
Calli & Codi
50. Red Round Treasure Chest
Olea, Frank, Wyn, Greg, Rhett, Dru
51. Hi Ho Silver
Betty Jean, Holly, Olea, Greg, Rod, Gilbert Sr
52. Christmas 1964
Codi, Wayd, Calli, Wyn, Dru, Rhett, Rod, Olea, Gilbert Jr, Frank, Betty Jean, Greg, Maxine, Shae, Holly
53. Christmas 1965
Gilbert Sr, Olea, Maxine, Wyn, Dru, Larry Bjarnson, Greg, Codi, Frank, Rhett, Calli, Wayd, Betty Jean, Gilbert Jr, Don
54. Christmas 1966 * Part I *
Shae, Rhett, Wayd, Maxine, Codi, Dru, Gilbert Jr, Wyn, Calli, Olea
55. Christmas 1966 * Part II *
Frank, Betty Jean, Holly, Olea, Greg, Gilbert Sr, Don
56. Christmas 1963 * Part I *
Olea, Dru, Wyn, Codi, Calli, Rhett, Gilbert Jr, Wayd
57. Christmas 1963 * Part II *
Codi, Dru, Rhett, Wayd, Maxine, Wyn, Calli, Gilbert Jr, Holly, Betty Jean, Frank, Greg, Rod
58. Christmas 1963 * Part III *
Frank, Holly, Olea, Greg, Rod
59. Christmas 1962 * Part I *
Maxine, Wayd, Calli, Wyn, Olea, Don, Codi, Holly, Gilbert Jr, Dru, Greg, Rhett, Frank, Betty Jean, Rod
60. Christmas 1962 * Part II *
Greg, Dru, Betty Jean, Olea, Holly, Wyn, Wayd, Rhett, Calli, Codi, Frank, Betty Jean, Don
61. Christmas 1960 * Part I *
Frank, Greg, Betty Jean, Don, Rod, Olea
62. Christmas 1960 * Part II *
Wyn, Codi, Calli, Frank, Greg, Dru, Olea, Maxine, Gilbert Jr, Rhett, Sarah Webb White
63. The Old Barnyard
Rod, Wyn, Gilbert Jr, Cow, Calf, Pig, Betsy
64. Chilly Day Warm Hearts
Wyn, Rhett, Dru, Olea, Gilbert Jr
65. Wrapping Gifts 1959
Olea, Wyn, Rhett, Dru
66. Glimpses Of Long Ago
Gilbert White Sr 1907-1983
67. A Few Photo Memories
Gilbert Sr, Olea, Betty Jean, Gilbert Jr & Other Family Members